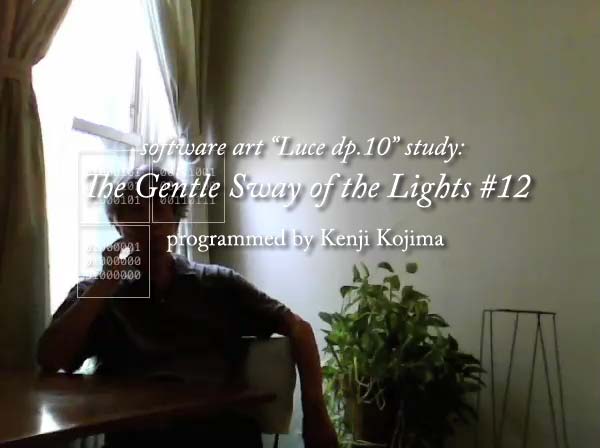 "The Gentle Sway of the Lights" Studies.
Current version Luce Dp.10
The concept of this project makes no boundaries between audio and visual. The program "Luce" captures changing lights of 48 divided image areas through a videocam then converts RGB color data of the three highest values in the areas to musical notes. The program sensor was set the most sensitive value. These studies tried varieties of measurement intervals. The picture looks like a still image, but the lights are changing slightly in every second. The program name "Luce" referred the Scriabin's "Prometheus" which score included lighting part "Luce". I am thinking that the program will be used for an installation in empty spaces like hall, and/or for a performance art. The application "Luce" is under development.
このプロジェクトのコンセプトは、視覚と聴覚との境界をなくすことにあります。プログラムは人間の目には感じることができない、微かな光の変化をビデオカムを通して感知し音階にして演奏します。ビデオカムを通した光は48に分割されたエリアで測定され、変化の最も大きな3カ所のRGBデータが音階に返還されて音楽になります。このスタディでは人間の目には感じることができない、最も敏感な変化を読み取れるセンサーの設定にしています。プログラム名「Luce」は、作曲家スクリアビンの作品「Prometheus」の楽譜で使われた光のパートから採りました。ホールのような何もない空間のインスタレーションや、ダンスなどのパフォーマンスに使う事を考えています。アプリケーション「Luce」は開発途中です。
Luce Dp.10 ビデオカムを楽器にするソフトウエア